Enterprise Managed Services
Many businesses seek and require certified experts to assist them with the complexity of moving enterprise workloads to the cloud.
Ensure your platform is secure and optimised with our managed services

We have earned our stripes along the way; we're a Top 10 Global Microsoft Partner, an Azure Expert MSP and an AWS Premier Tier Partner for Software companies.
Do you want your app to be optimally scalable, cost-effective when it comes to changing capacity requirements, and provide the best customer experience? Do you want to take advantage of low-cost cloud infrastructure and automatic scalability, along with many other benefits of public cloud? At Parallo, we specialize in moving apps to the cloud, and maintaining them.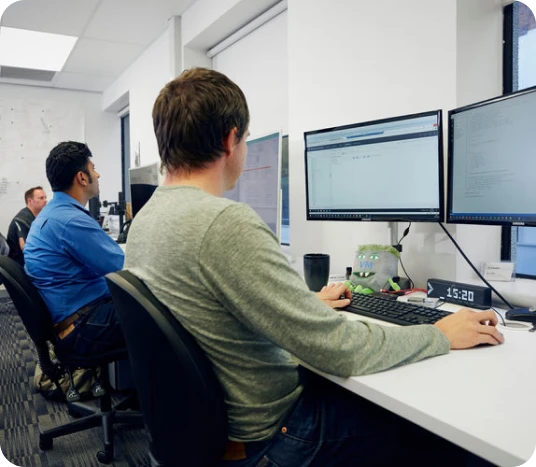 App Transformation
Our commitment to cloud expertise is extensive. Our engineers have the latest knowledge, skills and capabilities to migrate and transform your applications to the cloud.
Using our tested four-phase migration framework, we handle the heavy lifting to move your applications from on-premises or other clouds to Azure or AWS, while also helping you modernise and take advantage of new features.

Cloud Platform Management for Enterprise
Public cloud provides considerable advantages, but it can also pose potentially costly challenges, particularly when scaled up. Without proper monitoring, availability and performance may be affected, and expenses may skyrocket. With our Cloud platform management service, you can benefit from an efficient and effective cloud environment.

VMware Platform Support
With our VMware Platform Managed Service, your organisation can have a reliable way to manage your VMware platforms for the future. Our services include upgrading, expanding, deploying, and managing your VMware machines. By partnering with us, you can focus on driving business value while we handle the day-to-day monitoring and management of your virtual environment. Rest assured that your critical infrastructure and services are in expert hands.

Data protection service
We provide a proven and reliable solution for organisations to protect critical data with 99.99% backup success rates and seamless restore capabilities. Our services include managing upgrades, deployments, and maintenance of your CommVault environment.
Our expert knowledge and next-generation data protection service ensure effective management and protection of your data, giving you peace of mind that it's accessible when needed.
.
With the Azure platform expertly managed by Parallo, we're now set up to be at the leading edge of the innovation curve
---
Mark McCaughan
- Merlot Aero | CEO
Enterprise cloud resources