Enterprise Managed Services
Many businesses seek and require certified experts to assist them with the complexity of moving enterprise workloads to the cloud.
Ensure your platform is secure and optimised with our managed services

We have gathered our stripes along the way; we're a Top 10 Global Microsoft Partner, an Azure Expert MSP and an AWS Premier Tier Partner for Software companies.
Is your App optimally scalable, cost-effective when it comes to changing capacity requirements, and simply takes care of your customers in the most productive way? Want to benefit from low-cost cloud infrastructure and automatic scalability plus many other benefits of public cloud? Moving apps to the cloud is what we do.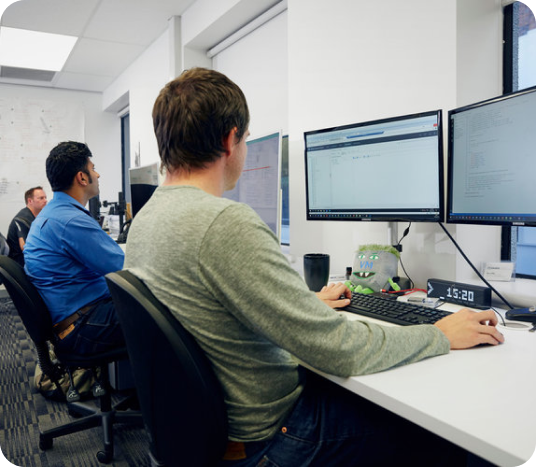 App Transformation
Our investment in cloud expertise runs deep. Our engineers utilise up-to-date knowledge, skill and capability to transform your applications and move them into the cloud.
Leveraging our proven 4 phase migration framework, we do the grunt work to lift and shift from on-premises or other clouds to Azure or AWS and help you modernise and leverage new features at the same time.

Cloud platform management for Enterprise
Public cloud brings significant benefits, but also potentially expensive challenges, especially at scale. Unchecked, availability and performance can suffer and costs skyrocket. Take advantage of our Cloud platform management service to ensure your cloud environment is efficient and effective.

Virtual platform support
Propel your business forward by concentrating on areas that will drive business value, and offload day-to-day monitoring and management of your virtual environment to our experts. You'll gain peace of mind that your critical infrastructure and services are being effectively managed.

Data protection service
With increased data sprawl across on-premises and cloud, effective protection of critical data is becoming ever more complex and challenging. Take advantage of our Data Protection Service, where we use our expert knowledge to manage and our next-generation data protection service, giving you confidence that your data is protected and accessible when you need it.
With the Azure platform expertly managed by Parallo, we're now set up to be at the leading edge of the innovation curve
---
Mark McCaughan
- Merlot Aero | CEO
Enterprise cloud resources